PROJECT in 2004: Tombstones


In 2004 we decided it was time for some new tombstones. I showed my friend Terry, who happens to be an artist, the tombstones over at www.ourhaunt.com which I liked very much. Terry said he could help achieve that look.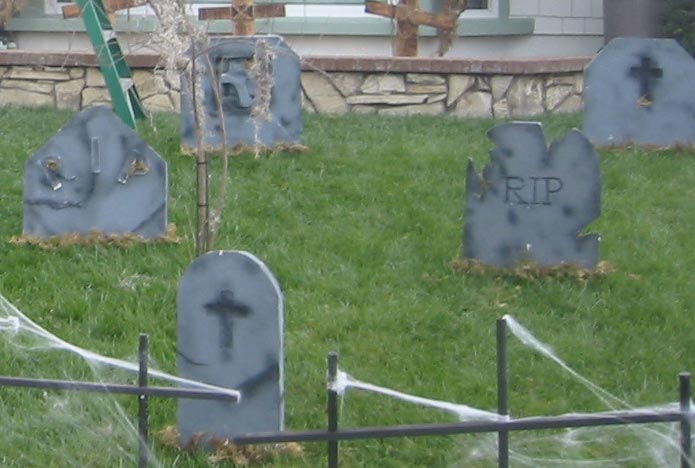 Now, back in 1998 we made our first set of tombstones. As you can see it's just some carving and a base coat with some spray paint on it. Simple yet still decent looking. But, what I have now learned is, if you put in a little more time and use different layers/tones of paints you can create some outstanding results.
Below you'll find some images along with tips that I have learned which will make your tombstones very real looking. But first, I'll start with parts required. Of course, if you have any of these items, yay, a less expensive project.
| | | |
| --- | --- | --- |
| Styrofoam | I have been able to to find, at Home Dept, a sheet that is 8ft x 4ft x2in. | $14 |
| Cutting Utencils: | We tried several different types of cutters. We found a serrated steak knife worked quite well | Free |
| Sand Paper: | Use a fine grit sand paper | $3 |
| Paint | Terry had a tinting paint, which I believe was just a black latex paint. So, we bought a gallon of white latex paint (latex is water based, which is what you need). It's amazing how little black paint you need to add to the white to make it a dark gray. My suggestion, get a gallon of cheap white outdoor paint and a small can of black paint. Don't forget to get mixing sticks. I would also spend 69 cents and get one of those plastic thingys that attaches to the paint can for pouring. | $10-20 |
| Rollers & Brushes: | Just buy the cheap stuff, you don't need anything fancy. We found a pack of 6 roller sleeves for 5 bucks. A handle should run you about $3. | $8 |
| Roller Tray & Buckets | Plastic tray liners are about 69 cents. They seem flimsy, but will hold the paint just fine. If you aren't on a tight budget I'd get a tray. You'll also need mixing buckets, paper ones are sold at about 50 cents. Though, since latex is water based, you can use a bowl and just wash it out afterwards. | $3 |
| Rags | Anything will do, old shirts, socks, your kid. This is what we use to wipe the paint off with. | Free |
| | Total: | $44 |
If you don't have any of these materials $44 might seem like a lot. Of couse, this can be lowered if you have some of these items. But, in contrast, I've seen some pitiful looking tombstones sold at stores for about 15-25 dollars. This method will yeild 7-9 better quality tombstones for a little more than the price of a premade one. Let's move on...